"Winning" Daylily Program Announces Lemony-Fresh 2013 Winner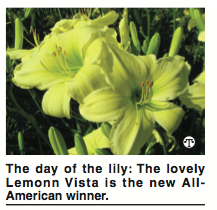 (NAPS)—It's time to think about adding refreshing color and zest to your garden. Lemonn Vista, the 2013 All-American Daylily winner, is both America's favorite garden color and is an excellent repeat bloomer, provid- ing a long-term color display.
Lemonn Vista joins the now 20 award-winning daylilies that have been selected for the coveted All- American title for their scientifi- cally proven and superior per- formance nationwide by the All-American Daylily Selection Council (AADSC).
Recognized for its superior per- formance in landscapes, Lemonn Vista paints a beautiful garden picture whether planted solo en masse or combined with compan- ion perennials. The large, 61⁄2", lemony-yellow blooms are fra- grant and have heavy substance that withstands the summer sun. They appear in early to mid-sea- son above 24–30"scapes and pro- vide a long colorful display throughout the summer.
The Lemonn Vista joins the "VistaTM" series of daylilies known to meet the ideal landscape demand for short-to-mid height, strong tendency to rebloom, arch- ing foliage, large, sunfast blooms, good increase, and uniform scape
height. These characteristics cre- ate a spectacular show of colorful blooms that are uniformly dis- played to create a sheet—or vista—of color. Plant Lemonn Vista in front of roses or other pre- vious All-American Daylily win- ners such as Frankly Scarlet or Red Volunteer for a delightful con- trast and tidy foreground to your garden.
The soaring popularity of daylilies, combined with the bewildering profusion of varieties and growing characteristics, demanded the development of a standard for daylily excellence. Started in 1987, the All-American Daylily Selection Council created a scientific methodology that evaluates daylilies on 52 differ
ent characteristics to determine the best varieties and to create a benchmark for future daylily varieties.
There are more than 48,000 daylilies registered, bred in at least 25 states, by hundreds of individual hybridizers. Using its elaborate testing program, the AADSC sorts through the thou- sands of registered daylilies to award the coveted title of "All- American."
The flowers are tested for at least two years, with finalists grown for another three to five years in open-field conditions before the winner or winners are announced.
The 2013 winner, Lemonn Vista is proudly carried at many garden centers across the nation and will be a beautiful and fresh addition to virtually any garden in America.
Learn More
For more information about the 2013 All-American Daylily winner, Lemonn Vista, and other All-Amer- ican varieties, or to download high- resolution photos, visit the website at www.allamericandaylilies.com. You can also go to the site to locate the closest garden center offering All-American Daylilies or to place an order online.