Showstopping Performer is a Winner in Landscape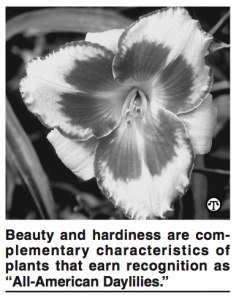 (NAPS)—The "golden rule" for America's favorite perennial has always been that gold (or yellow) daylilies bloom longer than laven- der, pink, purple or red daylilies. Meanwhile, "trophy" or "exhibition" type daylilies, with dramatic mark- ings and petal edges, bloom less than "landscape" types that have smaller, less dramatic blooms.
Yet the newest winner of the All-American Daylily Selection Council (AADSC) award breaks this rule: a stunning "exhibition" type daylily that blooms longer than most of the yellow varieties.
Known as Blushing Summer Valentine (Hemerocallis "Blush- ing"), this blossom has striking pink blooms featuring a magenta eye and picotee edges. A winner in the landscape and exhibition cate- gories, Blushing Summer Valen- tine blooms 30 to 150 days per year in zones 5 to 10 and adds drama to any landscape or border.
Since 1994, AADSC has been awarding its "All-American" on hardy, beautiful blossoms with sci- entifically proven superior perfor- mance. The title is not just an award granted to the prettiest cul- tivar, but rather given only to those rare daylily varieties that have demonstrated superior perfor- mance in dozens of criteria across at least five USDA hardiness zones.
The award differs from others in that its results are based on rigorous scientific methodology. Since 1989, AADSC has operated a network of test sites throughout the U.S. and has collected data on more than 50 performance charac- teristics so that consumers can purchase All-American Daylilies with confidence, knowing that these low-maintenance, sun-lov- ing beauties will thrive in their backyard beds, front-walk borders or sundeck containers.
In 2001, rust resistance was added as one of the key test crite- ria. In selecting for "bulletproof" performance, the AADSC has focused on identifying and pro- moting the most rust-resistant daylily varieties. Th
e 2008 All- American variety is a tried-and- true cultivar whose test scores earned it the AADSC's top honor. This winner offers a unique com- bination of beauty, performance and flexibility, making it a guar- anteed success in any garden.
Blushing Summer Valentine joins the previous All-Americans to provide gardeners with a steady stream of tried-and-tested perennial beauties. They are available at garden centers and can be a beautiful and successful addition to virtually any garden. Past winners include:
1994—Black-Eyed Stella, best known for its landscape perfor- mance as a nearly continuous bloomer.
1998—Lullaby Baby and Star-struck, honored for exquisite beauty and balance in the exhibi- tion category.
2002—Bitsy, featuring a petite personality with powerful per- formance; Leebea Orange Crush, which commands attention in any setting; and Judith, a large, vigor- ous variety, with a profusion of glowing pink blossoms—a trophy in anyone's garden.
2003—Frankly Scarlet, a vi- brant red that not only sustains but builds color intensity in the heat; and Plum Perfect, a clear, vibrant bloom with a striking symmetry of foliage that offers purity of color, vigorous growth, multiple bloom periods and wide adaptability.
2004—Lady Lucille, a large, showy bloom that starts off just as most other daylilies are winding down; and Chorus Line, which offers a mass of blooms that pro- vide a splendid display of color with fragrant, well-formed, wide, ruffled pink petals.
2005—Red Volunteer, a velvety, crimson beauty with striking eye appeal; and Miss Mary Mary, a wonderfully compact border plant.
2006—Buttered Popcorn, a large, buttery-gold bloom that boasts nearly continuous blooming from mid-season into fall and up until frost; and Persian Market, a large, showy salmon-pink with a rose halo.
2007—Lavender Vista, which pairs profuse, lavender blooms with lush, evergreen foliage.
For more information about the All-American Daylily winners, or to download high-resolution photos, visit www.allamericandaylilies. com. Consumers can also go to the site to locate the closest garden cen- ter offering All-American daylilies or to place an order online.