Designing with Daylilies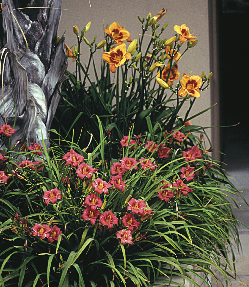 A Few Helpful Hints
Daylilies are America's favorite perennial for good reason. They are easy to grow, flower in every color but blue, come in a wide variety of shapes and sizes, and can grow well in all 50 states. With the abundance of options comes the potential for confusion. Keeping a few key points in mind will ensure that your landscape will benefit from all that daylilies have to offer.
Mass, don't mix
Beginning gardeners and designers often deal with an abundance of choices by "mixing them all up for a natural effect." This is a mistake for a number of reasons.
1. It's not a natural effect. In nature you are far more likely to encounter masses of a few dominant colors.
2. Mixing muddies the effect. Just as combining several colors of paint gives you brown, a random mix of daylily colors and styles will combine in your eye to create an unpleasant, muddied effect.
3. Foliage is variable too. Every daylily variety has its own foliage type. Used properly, daylily foliage provides a great texture in the garden, even outside the bloom season. Randomly mixing varieties results in the foliage equivalent of a bad hair day in the garden.
Rather than mixing varieties, try groupings of at least 3 to 5 of one variety, mass a low variety in front of a taller one, or make a real statement with just one variety per bed.
Consider bloom height
Daylily bloom heights range from 10″ to over 6 feet. Of course the short ones make great edging plants and the tall ones belong in the back of the aperennials border, but also consider the height of the blooms above the foliage. A daylily variety with the daylily blooms held just above tall foliage provides a great mass effect, and could hide the ugly lower branches of rose bushes. A variety with blooms high above the foliage might compete with the rose blooms, but could be ideal in front of a low window. The foliage would stay below the sill height and the blooms would be much higher, allowing them to be enjoyed from inside.
Use "show" daylilies sparingly
A short trip to the internet will show you stunning new developments in daylily breeding. American hybridizers are bringing us a mind-boggling array of blooms with ruffles, contrasting edges, eyes, picotees, and gold braiding. The photos are amazing to look at, but keep in mind that you don't enjoy your garden from the range of a close up photo. The details run together from any kind of distance. If you fall for one of these beauty queens, don't plant it in masses. Place it individually in a pot or along a pathway so that it can be enjoyed up close, or picked and taken inside.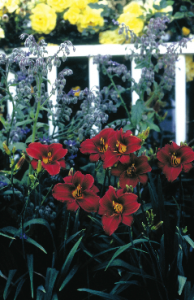 Plant the Right Daylily for Your Climate
Although daylilies grow in all 50 states, their performance in different climates varies greatly. Some, such as the famous 'Stella de Oro', require a winter chill to survive, making them unsuitable for Southern California or Florida. Other varieties can freeze to death in colder climates.
Most of the "beauty queens" are bred within a 150 mile radius of Orlando, Florida. Performance and appearance of these varieties is often different in areas with cooler, drier nights or shorter growing seasons. To find out how the newest "beauty queen" varieties perform in your area, join your local chapter of the daylily (Hemerocallis) society, www.ahs.org.
If you would like to find out more about nationally available varieties that have been tested throughout the U.S. over a long period of time, contact the All American Daylily Selection Council, www.daylilyresearch.org.