A STUNNING "PINK STELLA" JOINS THE ALL-AMERICANS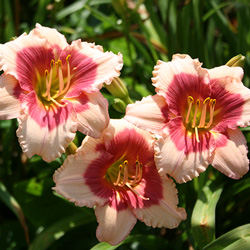 September 15, 2015 — GRAIN VALLEY, MISSOURI – The growing family of All-American Daylilies announced its 2016 winner:
The 2016 All-American winner is a breeding break-thru from Black Eyed Stella, as it "broke out" of the yellow/gold color range. Appropriately named for its parent, Stella's Pink Valentine (pp#9,205) has 3 3⁄4" blooms with the shape and form of its parent plant, but has clear pink petals with a rosy-red eye surrounding a green throat. Stella's Pink Valentine (pp#9,205) is compact, with the 16"-21" scapes rising only 4-5" above the arching foliage.
The rich emerald- green foliage forms a nice tidy mound quickly due to rapid increase, which also provides more colorful blooms quickly. It blooms in early to mid-season and then repeat blooms. It is cold hardy to USDA zone 4 and heat tolerant to USDA zone 10. The compact stature makes Stella's Pink Valentine a good candidate for using as a border plant, in mass plantings, or in patio containers. The rapid increase produces more bloom scapes that provide more summer color quickly in your garden.

• 3 3⁄4" pink blooms with rosy-red eye and green throat
• 11-16" tall arching, emerald-green dormant foliage
• Good for front borders, mass plantings, and patio containers • Blooms early to mid- season and repeat blooms
• Cold hardy, rust resistant and heat tolerant
• Recommended for USDA zones 4-10
• Winner in the Landscape Category
There are now 21 award-winning daylilies that have been selected for the coveted All-American title for their scientifically proven, superior performance nationwide. The All-American Daylily Selection Council (AADSC) began its test program in 1985 and awarded its first All-American title in 1994. The title "All-American Daylily" is not just an award granted to the prettiest cultivar, but rather given only to those rare daylily varieties that have demonstrated superior performance in dozens of criteria across at least five USDA hardiness zones. The AADSC All-American Daylily Award differs from others in that its results are based on rigorous scientific methodology. Since 1985, AADSC has operated a network of daylily test sites throughout the United States and
has collected data on over 50 performance characteristics so that consumers can purchase All-American Daylilies with confidence, knowing that these low maintenance, high impact, sun loving beauties will thrive in their backyard beds, front-walk borders or sundeck containers. (See attached sidebar on AADSC's rigorous testing program.)
In 2001, rust resistance was added as one of the key test criteria. In selecting for "bulletproof" performance, the AADSC has eliminated many of the highly susceptible varieties from its program and focused on identifying and promoting the most rust-resistant daylily varieties.
Stella's Pink Valentine joins the previous 20 All-Americans to provide gardeners with a steady stream of tried and true perennial beauties. They are available at garden centers across the country and can be a beautiful and successful addition to virtually any garden. Backed by scientific testing, All-American Daylilies are becoming America's preferred perennial.